Chiropractic Care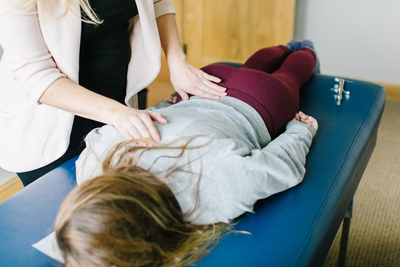 Our Approach
Dr. Lauren utilizes various adjusting techniques to personalize care for each practice member. In addition to traditional chiropractic adjustments, Dr. Lauren is trained in a gentle and specific neurological-based approach. This technique focuses on removing undesired stress from the nervous system, while decreasing overall tone and tension within the body.
Subluxations, or areas of interference within the body, occur due to a variety of physical, emotional and chemical stressors that are encountered on a daily basis. These subluxations impact the function of our nervous system, and can ultimately lead to pain and an array of symptoms. Our adjustments focus on finding and eliminating these areas of subluxation and stress. This allows our body eliminate excess tension, decreases symptoms, and permits our nervous system to function properly without any interference.
In addition to traditional chiropractic adjustments, we utilize a gentle and non-manipulative technique that eliminates twisting and popping, and normalizes the "tone" of the nervous system. This technique involves specific and effective light-thrust adjustments with the aid of a small handheld instrument.
The Webster Technique is a specific chiropractic analysis and adjustment that focuses on balancing the pelvis and sacrum of an expecting mama. This technique requires advanced education and certification, and is considered by many to be the key to a safer and more comfortable labor + delivery. The Webster technique is a safe, gentle technique that restores pelvic movement and alignment, allowing your baby to turn into an optimal position on their own after adjustment.
Dr. Lauren holds a Webster Technique certification and has also taken a number of workshops and classes alongside doulas and midwives, such as "Spinning Babies," in order to better serve expecting moms. This is a combination of positions and exercises that, paired with the Webster Technique, can further aid proper fetal positioning.
This technique is a manual, hands on technique, and is generally thought of as a "traditional chiropractic adjustment." This approach can also be utilized with an activator, a gentle hand-held tool, for pediatric patients + other specific populations.
The technique that Dr. Lauren chooses for your care will be thoroughly discussed with you prior to adjustment, and will be chosen based on your specific history, preference, symptoms, and goals. All of our adjustments are provided on a case by case basis and are highly personalized to your unique body.
Patients We Help
Connected Kids + Teens
Dr. Lauren provides personalized care for children of all ages! Her advanced training has allowed for proven results with symptoms such as: ear infections, anxiety, colic, bedwetting, migraines, latching issues, and more!
Is your baby experiencing colic and constipation in their first few weeks or months? Maybe your child is struggling with focus, or your teen is battling recurrent colds and headaches? We get it! Life can be stressful, and this stress can result in a multitude of symptoms.
Our state-of-the-art neurological scanning technology helps us to track patterns, determine function and find underlying stress in even the youngest of babies. With this gentle technology and precise adjustments, we can help to ensure that our kids are growing and functioning to their highest potential!
Even the healthiest of kids can benefit from regular chiropractic care! At Novo Chiropractic, we believe that chiro kids have a strong wellness roots system that allows them to grow healthy! Root your kids in health with a visit to Dr. Lauren today.
Expecting Mamas
From pre-conception through postpartum, and beyond! We love helping moms achieve their happiest and healthiest pregnancy! Wherever you may be in the motherhood transition, we're here for you.
Dr. Lauren is certified in the Webster Technique, and trained in "Spinning Babies" techniques. Our gentle prenatal adjustments focus on balancing the sacrum and pelvis, which can contribute to optimal fetal positioning. Additionally, regular prenatal adjustments have been shown to reduce labor time, improve maternal comfort – especially in the low back and neck, and enhance postnatal recovery.
Thriving Adults
You take care of everyone else, now it's your turn! Whether you're a weekend warrior looking to stay fit, or a busy parent needing some self-care, we're here for you. Dr. Lauren loves to help patients who simply desire to achieve healthier and more wellness oriented lifestyles.
Chiropractic Care
Dr. Lauren is passionate about offering the Hopkins community a natural way to achieve optimal health. Chiropractic care provides your body with the support it needs to function and feel it's best. The body is designed to heal itself when it is functioning optimally and we believe that with our help and your dedication, you can achieve that optimal state!
We're Here For You
We believe in helping our community grow families rooted in health and wellness! Our practice members are grounded in health, educated in overall well-being, and function to their highest potential. Let Novo Chiropractic guide you in initiating a new, healthier version of yourself!
Contact Novo Chiropractic to set up a free consultation today!
CONTACT US »
---
Chiropractic Care Hopkins | (952) 452-9712